I've decided to divide our trip into several different posts otherwise there would either be one insanely long post about it or a shorter one, and I'd be leaving out so many things. As you can imagine, the two of us in New York/Philly was quite an adventure, especially our living quarters for the weekend.
We get to our Hostel, the Malibu Hotel, at about midnight on Thursday. It took us a while to get there from the airport, but we finally made it. We saw the little sign out front between all these restaurants and shops and climbed the stairs to the second story of this little run down building. The guy at the front desk was nice, but not friendly. He told us we'd have to pay in cash, which we did not have but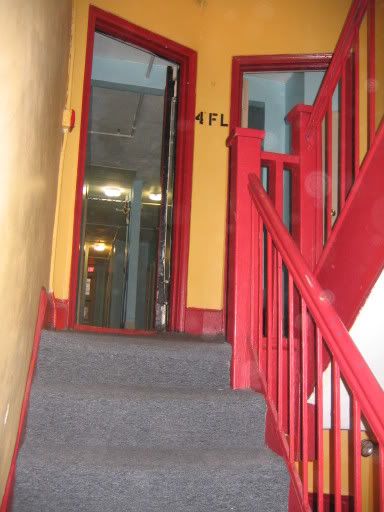 there was an atm nearby. The security guard said that we could drop our stuff off first, then run and get the money. He led us up some dark, narrow stairs, to the fifth floor, down a dark, narrow hallway, which got more narrow as we went down, to our room. We dropped our stuff off, went back downstairs and outside to the atm across the street. Keep in mind it's midnight, we're in New York City, and we have no idea what's going on. And on top of that the hostel is kind of shady. We get some cash and start freaking out. Or actually, Claire freaks out some. She has a "heightened awareness" for dangerous situations since she's interning at the family abuse center in our town this year. She is in contact with people who have been raped/beat/had horrible things happen to them on a regular basis. So she freaks out, is convinced that we're going to die, and tries to call a friend of ours in the city to beg her to let us stay at her place. We can't stay there because she already has a visitor and her apartment is tiny and she has a somewhat mean/crazy roommate who says no. Finally we suck it up and go back to the Malibu.
Once back inside, it's much better. We see other hostel stayers and they all look like nice people. Not like people who will kill us during the night. We get back to our room, which we have to ourselves that night, and eat/drink the food and drinks that Anali gave us before we left. I had a "dirty Anali" aka, ginger ale and cranberry juice and Claire ate a lot of chocolate to calm down. Even though we calmed down some, Claire made us sleep with the lights on that first night.
The second we get back to the hostel at about midnight and there is someone sleeping in the bunk right next to mine. We try to be quiet and get ready for bed as quitely as possibly without turning on the lights. I'm getting my stuff out of the locker and I look to my right and see this man's eye glaring at me. Turns out there wasn't ONE person in there, but TWO. One on the top bunk and one on the bottom. I freaked out a little because I didn't realize there was someone in that bed and he didn't look very happy. I got my stuff and made a quick exit for the bathroom, which is where Claire was. That bathroom was also very shady. There were two little bathrooms for the entire floor and there was always a wait. The one bathroom that we usually ended up using had a piece of the door missing and the window was gone. There was also no outlets in them. Anyways, we got ready for bed, went back to the room, and fell asleep. Sometime around 6:30-7am another person came in, crawled into bed and went to sleep. The weird part
about having roommates is that we never actually saw them. We were asleep when they were awake and awake when they were asleep. I never actually saw the person sleeping in the bed next to mine and he was there for two nights. And I'm kind of guessing that he is a he since I never really saw him.
The third night, and our last, as we're climbing the steps Claire exclaims "I love this hostel!" and she was serious. My, how her feelings changed in 48 short hours. The hostel was really cool in all actuality. We were pretty much the only Americans at the place. By that third night it was full of people from all over the world - no one was speaking English. It was great. We get to our room at about midnight again and there are three people asleep, and one of them is in Claire's bed. So she had to sleep that night in the bed above mine, which was already slept in by someone. During the night another person comes in so our room is to its capacity. And yet again, we never really see these people. So odd.
The next morning we're packing up to leave and as Claire takes out her bag full of the food from Anali she notices its all chewed up. Yes, some sort of rodent was in our room and ate through the bag. Ahh, gotta love the hostel. We freaked out a little, threw the bag away, continued packing as quietly as possible, checked out at the "front desk" checked our luggage with the security guard and went out for our final day in the city. Came back later in the afternoon to get our stuff and say one final goodbye to our living quarters. We'll miss you Malibu Hotel, you'll always be dear to us as you were our first hostel experience.