I got a package in the mail today from my sister Betsy and it made me think about how lucky I am to have such wonderful siblings. My sisters and brother are great. I have two older sisters, a younger sister, and a younger brother. Yes, that puts me smack dab in the middle of five kids. Explains a lot, I know.
Melissa
lives in Kansas, is married, and has two adorable boys. Shane and Logan. If my scanner was working, I'd scan in the new pictures of them I just got in the mail today from Betsy, but it's not so here is a picture of them from last Halloween. That's Shane as Harry Potter and Logan as Blue.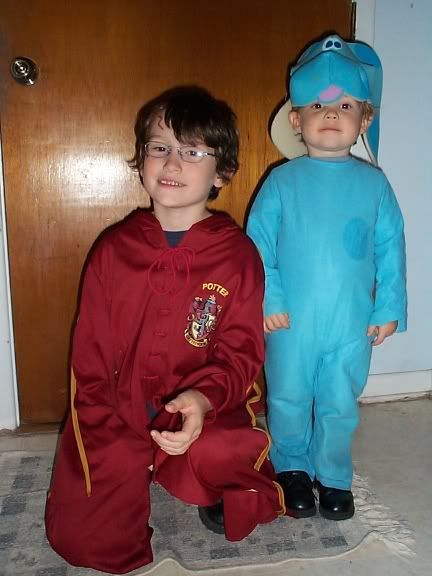 Melissa sends me cakes in the mail. And not just any type of cake, but red velvet cakes, my favorite! She sends them for my birthday and for finals. She also talks to me online when she's not busy at work and plays scrabble with me.
Betsy is married to Trent and they are in the process of moving from Detroit to Oregon but Trent is in New Orleans for his work and Betsy is in Kansas with Melissa and her family. Betsy is super competitive. We all are, but I think she and I are the worst. When she found out that Melissa was sending me cakes she got very upset. It went something like this "I can't believe Melissa is sending you cakes! How am I supposed to compete with that?? I can't believe she's doing that! Now i'm the bad sister who isn't sending cakes! I can't catch up now! It's too late! Just wait until Allie goes to school, she'll get LOTS of great care packages from me and i'll be her favorite! I can't believe she's sending you cakes!" She does send me stuff still, but she's given up on competing with Melissa because she doesn't believe she can top her. In today's package I got little snickers bars, cookies, candy corn, peeps pumpkins (i LOVE peeps!), a mini pumpkin, pictures of our nephews, and a card. Greeting cards are one of Betsy's passions. She sends me them all the time, for every occassion and for no occassion at all. Her cards are great.
Allie is a freshman at Michigan Tech this year and she's loving it. I needed to send her my graphing calculator in August because I don't need it anymore and she's studying engineering and she does. I waitied until she was at school to send it and made it into a care package. I included cookies, pixie sticks, wax bottles, and i don't remember what else. I timed it so she got it before classes even started. Which made it her first care package! Betsy found out and got mad at me. "I can't believe you sent allie a care package already! I had one ALL READY to go! Now mine won't be as good because it won't be her first!! " Did i mention that we are all extremely competitive? But see, our competitiveness is a good thing, it fuels care packages. Anyways, back to Allie. She calls me a lot to see how I'm doing and tell me what's going on up at her school. She's always in a good mood and is somehow able to time her calls right when I need a pick me up. I'm not sure how she does it. And I love the voice messages she leaves. They're always so cheerful.
Kyler - the only boy. Poor kid, he has four older sisters. He's a freshman in high school but I always think he's still 11. He's not. He's a good sport, seeing how we tortured him since he was the only boy and the youngest. He takes me fourwheeling when I'm home, sometimes twice a day. And he makes sure I don't die while we're on the trails. Last time we went he brought me to this area he found where wild blueberries were growing and we stopped at ate a bunch. He also talks to me online late at night when he should be sleeping but he's not.
Here's a picture of me with my siblings from last winter. Melissa isn't in it since they weren't able to come up last year for Christmas. For some reason, we all thought it would be a good idea to go fourwheeling in the snow. It was actually really fun, but incredibly cold!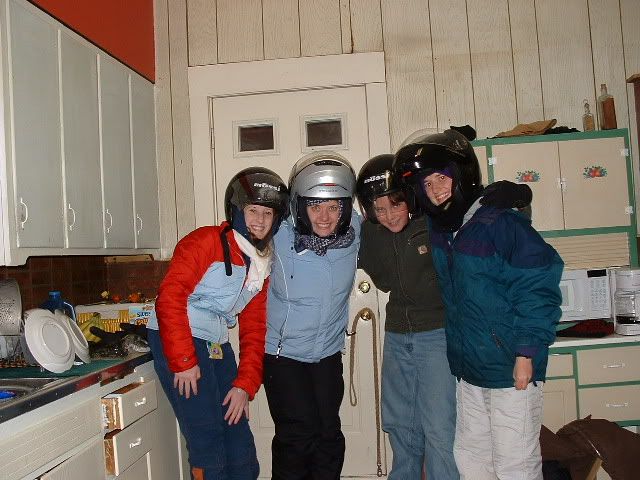 So those are my siblings.