It only took a few weeks and way too much money, but my car is now fully registered and street legal in the state of Maine. This is the first state I've had a car in that requires a state inspection every year. While getting my car inspected they discovered I needed new struts on all four wheels. Sigh. They did say that everything else looked great, especially for the amount of miles on it. And the mechanics were impressed that there was no rust on the car. That's because the car has lived in Tennessee it's entire life, before moving here. There is no snow in Tennessee, which means no salt on the roads, which means no rust. Also, no oceans and no salt water in Tennessee. Yes, Tennessee is a good place to be a car. Besides all those mountains they must go up and down.
Speaking of struts, Jeremy found out that his new-to-him car needed a new strut (along with other things) this week as well. Luckily, since he's only had the car a month and a half, the dealership he got it at fixed everything for free. They said they should have caught it before they sold him the car. This was such great news to us.
This is also the first state in which I've had a car registered that requires a front plate. Which means I can no longer have my Yooper plate on the front.
This is a sad day indeed. My sister Betsy gave me this plate for Christmas in college and it adorned my Trooper and then my Accord in both Texas and Tennessee. Alas, I've had to take it down. In it's place is a standard Maine Chickadee plate,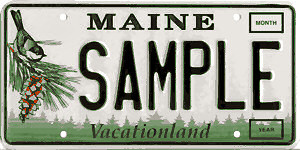 as I didn't opt for one of the fancy lobster plates.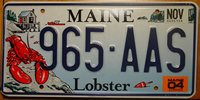 Maybe I should have.